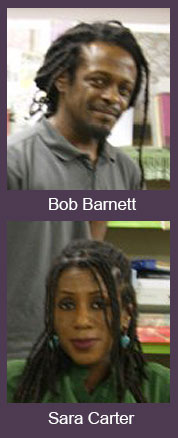 Bob Barnett and Sara Carter are committed and dedicated crafts people who share a love for textiles, design and upholstery.
Bob Barnett your guide and tutor, trained at the London College of Furniture, graduating with distinction and credits in 1989. He has taught accredited and non accredited upholstery courses at various Adult Education Centres in London.
With over 29 years of experience, Bob has acquired an extensive knowledge of both contemporary and traditional methods whilst being dedicated to the lasting quality and beauty of traditional craftsmanship. He is uncompromising in his attention to immaculate execution and detail and is always interested and willing to challenge boundaries while he encourages students to develop and find their own style.


Sara Carter a trained upholsterer, is your first point of contact, her passion for textiles makes her an untiring help in sourcing the perfect fabric for your project. Barnett Upholsteries have accounts with all the leading fabric houses but we are always willing to search for the more obscure textile suppliers wherever they may be.
____________________________________________________________________________________